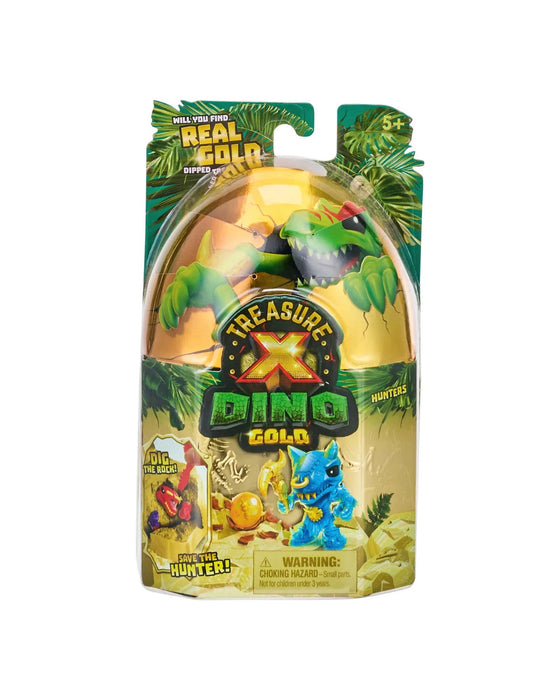 Treasure X Dino Gold Hunter Single Pack Season 2 - Assorted
Save

Liquid error (snippets/product-badge line 38): Computation results in '-Infinity'

%
Treasure X Dino Gold is back with more awesome Mini Dino Hunters to dig up and more new Treasures to find! Get ready for ten more Levels of Adventure.

The classic Treasure X unboxing dig experience has a new stone block compound to dig out and break apart! Build your special Digging Tool that now comes with a brush and dig out and rescue new Mini Dinos and a whole different collection of Treasures! This time the Treasures are encased inside a fossil. Use all the parts of your tool to break open the fossil to discover your Treasure. Use your tool to break open the fossil to discover your Treasure inside an amber vessel. Use the Golden X Key to open! Search for seven different Treasures in the form of mysterious "!".

Will you be lucky enough to discover the Gold Treasure? There are 12 new Mini Dino Hunters to find and collect, many with new and different finishes. Look out for Dino Hunters with Crystal, Stone, Tar and Gold Finishes! Each Mini Dino Action Figure has a touch of bling. There is a one in 18 chance of finding Real Gold Dipped Treasure. Kids will love this pre-historic unboxing adventure toy as they search and dig for Real Gold Dipped Treasure!

Product Details

Suitable for ages:

5+ years
Includes only Treasure X Dino Gold S2 Hunters Single Pack
Includes 1 x Character + Weapon​, 1 x Crackle​, 1 x Map/Collectors Guide​, 1 x Rock​, 1 x Sphere​, 1 x Tool​, 1 x Treasure
Series 2 Features

The Classic Treasure X Unboxing Experience Is Back with a new Stone Block Compound!
Eight Levels Of Adventure! Take on the eight levels of adventure as your search for All-New Mini Dinos and Treasures
Treasure X Dino Gold has 12 new Mini Dinos to rescue from the stone and collect!
There are seven different Treasures to find in Treasure X Dino Gold. One of them is a REAL Gold Dipped Treasure. Will you be lucky enough to find one?
New Treasures Encased in Fossil​s to break open and reveal!

*Each sold separately. Products are sold separately and come in various designs. We cannot guarantee which design you will receive as products are selected at random by Kidstuff Staff for online orders.